Introduce: Specialized site to share, guide and update good techniques about programming, applications, servers, blogs, Network cloud, secure storage, ... and New Trends around the world.
---
When digital conversion fails, learn about why and how it changes, not just technology and transactions
---
In the digital age and disruption due to pandemic, emphasizing the humanity of change gives digital transformation a purpose. To be successful, digital transformation must now give priority to relationship transformation (Relationship Transformation, RTx) as the 'reason' of change and modernization.
As consumers flock to digital channels for daily shopping, learning, and entertainment, when employees move work from the corporate office to the home office, when teachers, children, and parents Moving to distance training and as technology is connected and real-time data becomes the lifeblood of relevance and resilience, digital transformation is bringing a whole new sense of urgency. However, before the pandemic, it was estimated that 4 out of 5 attempts to transform the number (Digital Transformation or DX for short) failed.
This raises the question: What mistakes do companies make and how can they make up for the time it takes to succeed in the future? Ironically, the answer is that digital transformation places too much emphasis on the 3-word "digital" and lacks the focus on "people" and the purpose of transformation. To make digital transformation effective and successful, it must evolve through relationship transformation and focus on moving towards connecting people through a digital platform.
Before COVID-19, singular transformation was about business transformation and only about digital transformation. The roadmap largely focuses on updating and upgrading old and different systems. By most estimates, 8 out of 10 transformation initiatives of this kind have failed, sometimes spectacularly. So, what's the matter? Wipro Digital, McKinsey and others have identified a number of false fabrication mechanisms, including:
Lack of alignment and clear understanding among leaders on how to implement digital transformation strategy
Lack of CEO involvement and support
Concern from leaders is that their digital transformation project is a waste of time
Focus on the back-end benefits, while Product Development, Marketing and Sales see the least benefit from innovations.
Fear of the overall complexity of innovation and the uncertainty of its success
Understanding the development of employees and customers, especially during COVID-19
Recognize that innovation is rewarded or led by the IT department (and not by CMO or CDO)
The race of digital transformation prioritizes the "digitalization" over the matter of the soul of businesses and employees
Yesterday's digital transformation framework and focus has been dented because it misses the dynamics of core business values, people and relationships. Executives place too much importance on digital as a means compared to the importance of connecting business and people, using digital as a guide for engaging and building relationship.
Digital transformation without focusing on customers and employees simply won't create value in the eyes of business leaders, or provide them with a purpose, direction, or goal that they or the whole of organization can be achieved. For them, they tend to be just the latest in a long line of high-cost, distracting, over-promising, and low-cost IT initiatives. To borrow Simon Sinek's "Why, How, What" message, digital transformation has put too much emphasis on the What (modernizing) but never on the Why or How.
Better framing reflects the real transformation that was taking place in society before COVID-19 came along, namely, the transformation of human relationships. Driven by a combination of technological innovations, demographic shifts, and changes in cultural and social norms, we as digital citizens have steadfast on the road to becoming more empowered as a personal, more self-reliant and also more connected. As a result, all of our standards and dynamics around relationships change, in all contexts, including those with family and friends, employers, and brands. , retailers, communities, and professionals and authoritative figures.
Then the virus attacks and these changes simply accelerate and accelerate them. With global shutdowns and "stay in place" ordinances is the new norm, and for those concerned with their health and the health of their loved ones, digital transformation is the more appropriate answer than ever. It is the "why and how" question that determines how businesses respond to events unfolding.
Digital priority is the new standard, and as people shop and work from home over time, these behaviors will engage and increase. Now, everyone must learn how to "digitize" in their personal and professional lives. Employees need immediate support to work from home, at a time when "working from home" is not the mainstream. At the same time, when stores closed or had limited capacity and feared the rampant COVID-19 epidemic, customers flocked to… their smartphones, apps and websites to find feasible new services and solutions. McKinsey estimates that e-commerce has experienced 10 years of growth in just three months!
Companies that haven't been digitally optimized for their employees and customers find that their business is disrupted overnight. However, tech-pure businesses are already at the forefront of serving employees and customers, introducing new capabilities and standards for teleworking and real-time customer interaction. The game has changed and it never got back to normal like it was yesterday.
However, not only the number conversion is interrupted. The core of business operations, relationships with employees, customers, and partners, is also broken. Things suddenly turned out of the way, purely transactional, and needed to be humanized to restore connections and eventually relationships.
Business is all about relationships, transforming numbers into human endeavors
To survive in today's fast-paced age, companies need to be more intentional in managing their relationships. In order to grow and achieve success, and sustainable growth, they also need to transform and replicate those relationships, all relationships, including employees, partners and communities.
The impact of digital in our lives, accelerated and amplified by the pandemic, continues to ignite new behaviors, emotions, and standards. This puts relationships at risk as people increasingly take control of the experience they search for online.
When asked to what extent people performed daily activities compared to before the COVID-19 pandemic, the extent of behavioral disruption was clearly seen.
Trivial things like browsing the Internet, using social media or streaming videos, have seen a greater volume of activity before the pandemic with more users going online than usual (respectively 54%, 45% and 45%).
For example, in a snapshot from May to August 2020, Salesforce highlighted the impact COVID has on human and digital interaction.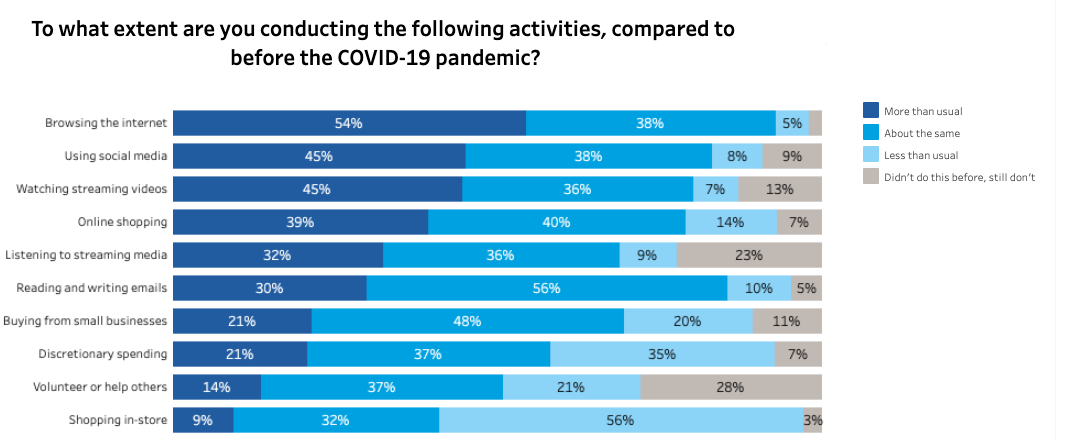 How do people feel about business actions during the pandemic? Salesforce has identified great opportunities for human-to-person interaction and for transforming relationships.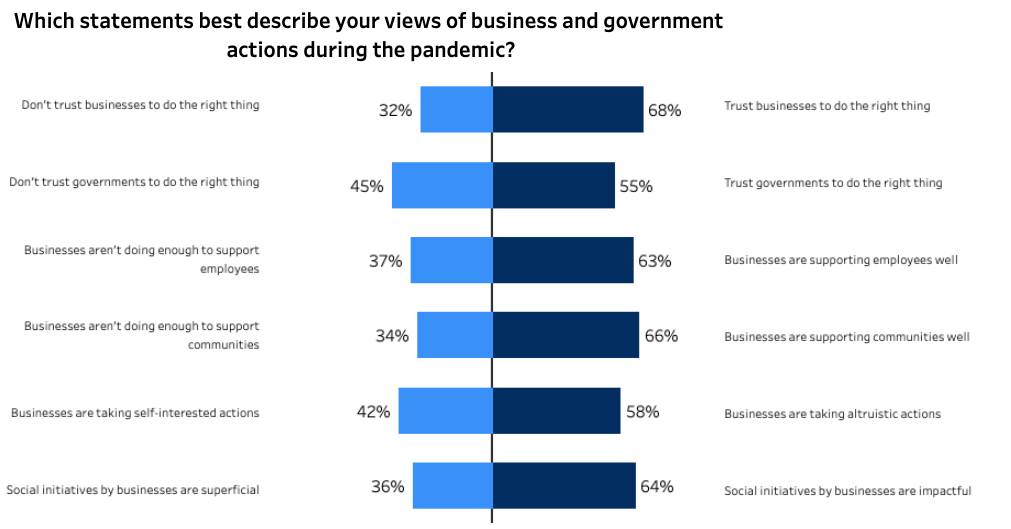 Salesforce snapshot study series: Insights into how consumers and the workforce are driving change. SalesForce
When asked if they expected the business to do the right thing, one third of customers said they did not trust the business. More than a third do not believe that businesses are doing enough to support their employees or communities. In fact, 36% consider the social initiatives of businesses superficial. And nearly half (42%) believe that firms are taking self-interested actions at this time.
DX + RTx brings its reason to Technology and Transformation - Person-Centered Purpose
These are not only times of turmoil, but also opportunities for positive change with relationships at the heart of the transformation.
Therefore, all companies should focus their digital transformation efforts on relationship transformation, putting RTx at the core of everything, especially in the following three aspects of its business. surname.
The first is about gaining customer trust and driving engagement. Customers are becoming more and more demanding towards the individuals and organizations with which they do business. COVID-19 only deepens this fact. But when they are trusting and fully engaged, they buy 90% more often, spend 60% more, and are 5 times more likely to demonstrate exclusive loyalty (Rosetta Consulting, 2015).
Second, live up to their values ​​and goals. 80% of customers and employees believe that businesses have a responsibility to make a positive impact on society and are more likely to want to be associated with them than pure for-profit businesses. If ever there was time to prove purpose, this is it. Remember, a third of customers do not believe that the business will do the right thing, 36% feel that social initiatives are superficial and 42% feel that the business is taking private actions. profit. Then it comes as no surprise that purposeful organizations outperform the S&P 500 by 303% (IDEO's Creative Difference).
Third, about building connections not only with customers but also with all of their business partners, employees, other stakeholders and their communities. The connected business, or ecosystem, is creating explosive growth in this day and age. Seven of the 12 largest companies by market capitalization - Alibaba, Alphabet (Google), Amazon, Apple, Facebook, Microsoft and Tencent - are ecosystem players (McKinsey Quarterly, January 2018 " Why Digital Strategies Fail ").
Even before the pandemic, these three focal points made clear the importance and value of focusing digital and RTx transformation around people and enhancing relationship dynamics, thus becoming a P2P (person-to-person) business.
Digital transformation reengineering around relationships is more inclusive and purposeful because it encompasses all corporate functions and puts people and human results first. Relationships are the responsibility of everyone in the organization and also the primary vehicle for building the organizational culture and business ecosystem. COVID-19 only exaggerates need and opportunity. By shifting the focus of the transition away from entities like business, technology, people or even culture, and instead focusing on the connections between them, it avoids the implication that they are fault in any way or blame the current state and therefore they, need to be fixed or changed.
Everyone agrees that companies need to improve the way they do business, and the down payment has never been higher. If they succeed, they must adapt to both the burgeoning digital age and a world completely redefined by coronavirus. But the stars in any contemporary business transformation are the people, and what drives the action is not the person themselves, but the relationship between them. Companies must reimagine and refocus digital transformation initiatives to include RTx, a transformation that puts human understanding, behavior, aspirations, and connections as "the cause." in number conversion.
By placing people and RTx at the heart of digital transformation, we can then visualize "how" to move on a more purposeful path to change and modernization (What). Technology plays an important supporting role, but not the main one. And that is the secret of success not only of the Fourth Industrial Revolution, but of life itself. In this regard, pandemic is probably the best thing that can happen to businesses.