Introduce: Specialized site to share, guide and update good techniques about programming, applications, servers, blogs, Network cloud, secure storage, ... and New Trends around the world.
---
Facebook Hacker Plus: Great opportunity to earn extra income for white hat hackers
---
It is a fact that no matter how good programmers are and how many tests they perform, their software will always have errors no matter how much or less. That is why the big tech companies often call for help from independent security experts to find vulnerabilities in their products and report them through bounty discovery programs. official error.
Facebook has been one of the leaders in this movement since 2013, and now the company even has the idea of ​​turning its bug detection bounty program into an interesting "playing field", Not only does it help global white-hat hackers improve their skills, but also provides them with a steady stream of income, through a project called Hacker Plus - a "close partnership" program, designed to " spread gratitude and bring greater benefits to the Bug Bounty community of Facebook ".
Hacker Plus basically includes 5 bonus categories with each requirement (difficulty) as well as a separate bonus level. In addition, there are VIP perks specific to hacker annual events including paid travel and accommodation, the ability to access and participate in bounty programs for products and features not yet available. release, and especially prestigious titles in the security community as a testament to the contributions and qualifications of each individual.
In addition, Facebook will also place researchers who found a "high impact vulnerability" in the Hacker Plus tournament, and higher position in the tournament means more rewards. The tournament system in Hacker Plus is divided into Bronze, Silver, Gold, Platinum and Diamond levels. The Diamond level offers the largest bonus, and of course has the highest requirement. For example, to meet the requirement, you need to find and report at least 10 valid errors, accumulate a score above 3,000, and an SNR greater than 0.6. (The SNR is calculated based on the number of bug bounty payments over a 12-month period divided by the previous year's payments. SNR is basically how Facebook tries to ensure the quality of posts and deadlines. processing duplication).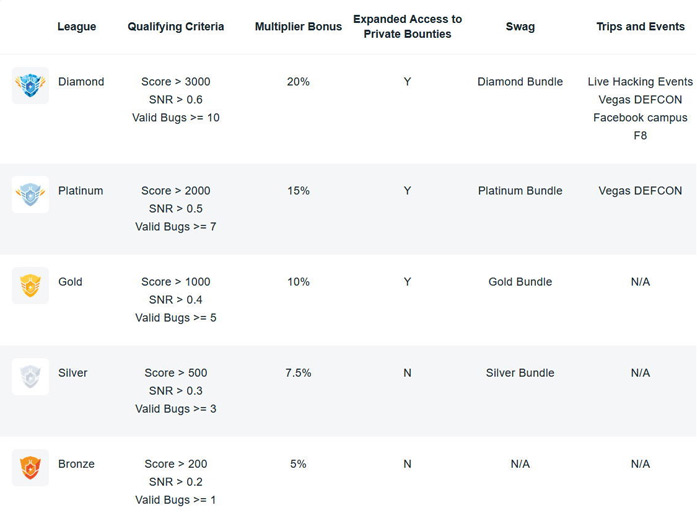 Levels in Hacker Plus
Overall, a bounty program for detecting security bugs is a great idea, helping service providers leverage resources from the community to perfect their products. It can be said that this is a kind of civilized cooperation with mutual benefit. Specifically, this program will help motivate individuals and groups of hackers not only to find security holes, but also to disclose how to properly exploit or fix these vulnerabilities, instead of using them for personal gain, violating the law or, worse, selling them to black organizations. In general, the cost of rewarding security researchers is usually nothing compared to the damage and the amount of money spent to fix the consequences of the vulnerability.
Scaling up the bounty security bug bounty program is a necessary move, showing Facebook's interest in contributions from resources outside the internal system, and can help persuade More security researchers participate in reporting vulnerabilities in their software, resulting in a significant improvement in product quality and user experience.
Interested parties can learn more about this program and join here .
Hackers found 55 vulnerabilities in Apple's system, and were rewarded with nearly $ 300,000
Facebook destroyed the line of hacking accounts to run Ad, causing millions of dollars in damage
13 websites you can hack freely, legally, to hone your skills
2 extensions on Google Chrome collect unauthorized information, users should remove it immediately
17 skills needed to become a hacker