Introduce: Specialized site to share, guide and update good techniques about programming, applications, servers, blogs, Network cloud, secure storage, ... and New Trends around the world.
---
360 Total Security Review: Basic security solution, easy to use
---
360 Total Security has been around since 2014 when it was introduced by Qihoo 360, an Internet security company based in China. Since then, the app has seen stability improvements and now includes more anti-virus, ransomware and anti-malware protection.
360 Total Security includes a PC maintenance toolkit, which does a great job at helping your computer run more efficiently. Besides, it also works well with other antivirus applications. The paid version of 360 Total Security includes some premium features that you might not find elsewhere.
Along with a more detailed evaluation of 360 Total Security through the following article offline!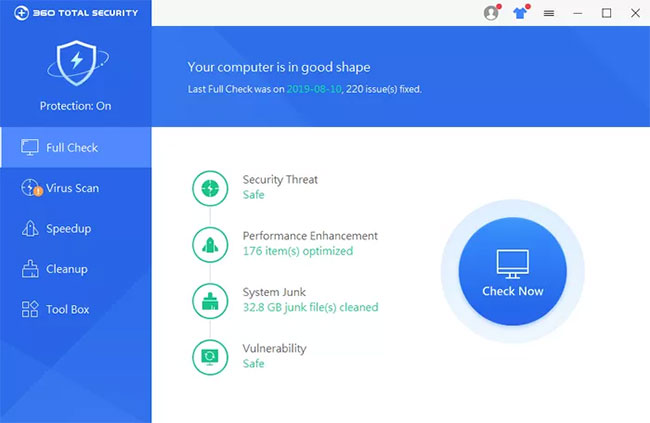 360 Total Security
Advantages and disadvantages of 360 Total Security
Advantages
Installation is quick and easy
Requires few system resources
Includes PC maintenance toolkit
No account registration required for the free version
Defect
Test results are lower than average
The free version has many ads
Some useful features are only available in the paid version
Virus scan based on definition & behavior monitoring
Definition-based virus scanning is the standard for antivirus applications and 360 Total Security takes these definitions seriously. In addition, 360 Total Security also includes an AI machine learning engine that monitors activity to ensure that threats are captured even before a general definition is established.
Scanning position
By default, 360 Total Security performs a quick system scan (Quick Scan) right after it is installed, even before you finish reading and signing the privacy policy (outlined quite carefully). This scan will check for existing applications on the primary hard drive and only take a few minutes to complete.
However, you are not limited to a quick scan. Full Scan checks system settings, popular apps, running processes, startup items and files to ensure you don't have any existing malware that is likely to cause the problem. with system. You can schedule this (or any other scan) to take place periodically (daily, weekly, etc.) or overnight so as not to affect your system.
You can also perform a custom scan of any connected hard drive or external storage device.
Clean interface, easy to navigate
From the moment of installation, through choosing a custom scan and using the additional tools included with 360 Total Security, users will find it a relatively easy to use application. The most used functions are on the app dashboard, which opens when you click the icon on the taskbar. There are a few functions (like many different scanning capabilities) hidden in the options menus, but with a single glance, it's not hard to find any of the features you need.
Good performance
The application activity on the system (Windows 10 machine) is almost negligible. Fast, full, and custom scans take place in the background while you work with other things and cause no lag or freezes in other apps. Additionally, you will also find that the installation process consumes less system resources.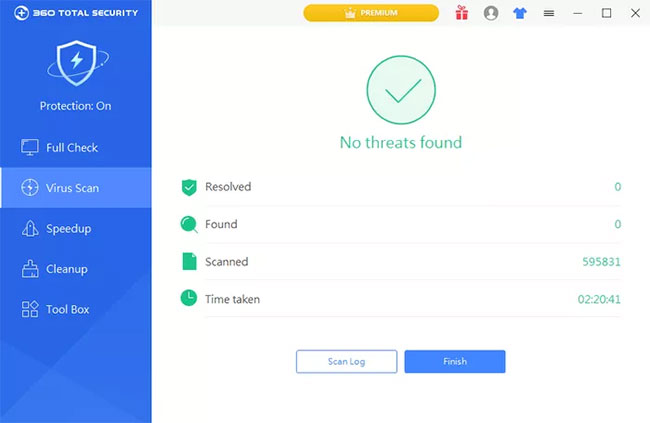 360 Total Security has a very small impact on the system
Useful and effective additional tools
360 Total Security is not really great. What you will really find most valuable in 360 Total Security are the additional tools provided with the antivirus application .
It's worth noting that there are two free versions of 360 Total Security and each offers a different level of tools.
360 Total Security Essentials is a basic antivirus application, provides virus and malware scanning, anti-ransomware, sandbox to open unknown files, safe online shopping, privacy protection, protection when using the Internet and protecting the system.
The more premium plan, though still free, includes everything from the Essentials package, plus the Patch Up patch, which monitors and installs system security patches as they become available, WiFi security checks, apps Use Clean Up and Speed ​​Up. Both Clean Up and Speed ​​Up are utilities that help your computer run more efficiently, and both are extremely useful.
Is 360 Total Security really good?
Unfortunately, in testing through AV TEST, 360 Total Security was found to be less effective at removing viruses than other products (only around 91.7%).
360 Total Security also sometimes issues inaccurate warnings, especially with .htm and .html files. This tool flags them as potential security threats, even if they have been saved and you want them saved to your computer.
Another disappointment is the fact that some features, such as a data shredder, driver updater, and firewall, are only included in the premium version.
Conclude
360 Total Security is a fairly well known antivirus application that claims to protect users against a variety of threats and does a very good job of that. For many users, it works better as a backup when used in conjunction with a more powerful antivirus application.